Slow down, everyone. You're moving too fast.
Jack Johnson
Life has been so crazy lately...March always seems that way. It's gross out, as all the snow is melting into a slushy mess, and there seems to be so much to get done. Homework that is unfinished. Rooms that need cleaning. Siblings that need something. Places to go, things to do. Yadda yadda yadda...
And it's been so easy to just get caught in that. When you just get right in the middle of this spinning, spinning, spinning whirlwind that we call craziness...and life.
But that's not how life is always. What happened to sitting around and smelling the roses? What happened to just enjoying life?
Where on earth did our rest go?
We lost our rest. In the midst of chaos and to-do lists. Not that getting things done is bad, but when you only focus on what's next, you miss out on moments like this.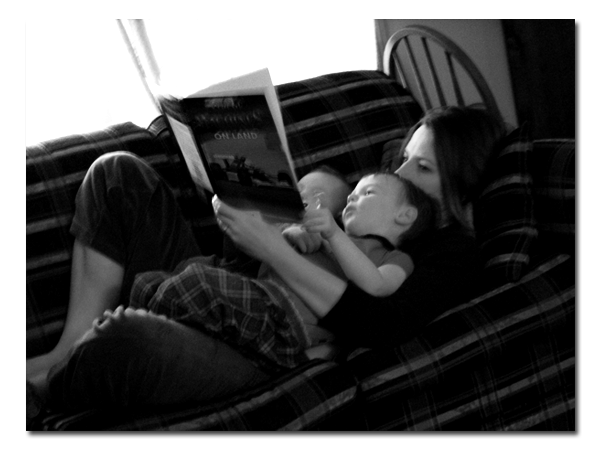 I love how Eli and Sam are nestled in with Momma...
That's why its important to have time to breathe.
And drink coffee. That's always good too. ;-)
There's my equivalent of a post today. Nothing deep or anything. Just breathing room. Sorta. ^_^
EDIT: I was really touched by the comments on my post below--a BIG 'ol hug to all of you! :-)